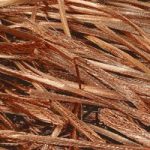 For the best prices for copper in Standish, choose a highly regarded scrap metal dealer. Copper fetches a decent price. As it is a commodity like other metals, its price does fluctuate daily.  However, we remain in contact with the London metal exchange and are aware of the day's current price for different types of metals. This is one of the reasons why we can offer you the best price for your scrap copper pieces. Moreover, we're an established scrap metal dealer and have provided our expert services to all our clients for many years. Regardless of the amount of scrap copper you have, we're happy to give the best price for it.
We're an award winning scrap metal recycling site. Thus, in Standish, the best prices for copper are available when you bring your scrap copper pieces to our scrap yard. In addition, our site is clean and safe and you can rest assured you'll receive a quick turnaround time. The prices you receive for your scrap copper pieces will be paid to you via cheque, BACs or debit card. We take our scrap metal recycling responsibility seriously. Hence, we offer a range of scrap metal recycling services to assist you with your own recycling. We're happy to accept all types of scrap metal including aluminium, stainless steel, lead, brass, zinc, and of course, copper. We also offer a scrap collection service if you are unable to bring your scrap metal to us.
The best prices for copper in Standish are available when you remember Wigan Metal Recycling. Contact us today and find out how we can assist you with your scrap copper pieces. As registered scrap metal merchants, we take great pride in our excellent scrap metal recycling services. Moreover, we believe in recycling to help protect our environment. Regardless of the amount of scrap metal you have – including your copper scrap – we are available to assist you with our expert services.