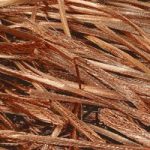 Get the best prices for copper in Orrell at our award winning metal recycling centre. Wigan Metal Recycling has been successful in this sector since 1904. Originally set up as a small trading business, the family firm soon moved into demolition and dismantling sectors. Several legendary deals were made and the firm has remained a part of local history for more than a century. We pride ourselves on the strong connections we have built within the local communities we serve. What sets us apart from others in this business is our reputation for integrity and ethical pricing. Our well-trained and experienced team can handle the full range of metals in our clean, safe and state-of-the-art premises. This means we can offer our clients faster and more efficient turnarounds.
For our customers in Orrell, the best prices for copper are offered because we keep in touch with the fluctuating rates in the London Metal Exchange. In keeping with government guidelines, we ensure that all payments are made only by cheque, debit cards or BACS. We have our own fleet of well-maintained vehicles equipped with the latest equipment. Mobile grabs, magnets, shears and containers enable us to sort and separate metals quickly and accurately. If you have a regular output of scrap metal, you can avail of our free skip and collection service. However, we are glad to accept both large and small quantities of metals. Friendly service and the latest quotations are guaranteed.
We can grade and value them correctly and get the best prices for copper in Orrell. Since metals are not biodegradable, they can be recycled and reused. However, it's important to sort and segregate the different metals. While selecting a metal recycling centre, it's wise to check with them whether they specialise in certain types or whether they accept only certain grades. Some scrap yards may not accept mercury or lead as they may not have the right equipment or licenses. If you would like to find out more about the best prices for your copper, contact Wigan Metal Recycling.  Some local councils may have a regular program for collecting metals such as aluminium or cans. There are different rates for ferrous and non-ferrous metals.