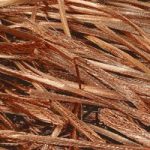 When production work results in metal scrap, then scrap metal skip hire in Hindley is the smart solution. You may see scrap metal collection for recycling as just another thing to do. However, since you have to get rid of it eventually, you may as well get paid. At Wigan Metal Recycling we make it easy and cost effective for you. You won't have to pay an employee to spend all their time collecting, sorting, storing and transporting your scrap metals to our recycling centre. For our local commercial enterprises, we offer free delivery and collection of skips in any size suitable to manage your volume. We have the latest in trucks along with equipment like mobile magnets and grabs to collect your skip when it's full.
There's no need for you to waste time sorting your metals. In Hindley, scrap metal skip hire from Wigan Metal Recycling means we do the work and you get paid. Not only do you get the money you might have been throwing away but you get the best prices possible. We are up to the minute with London Metal Exchange prices. If prices change, we know immediately. We keep short accounts so you can expect prompt payment. All you have to do is get the scrap to the skip and we will handle everything from there. You will receive confirmation of the weight of the scrap collected from your facility, the price and your total pay out to you. You'll have a complete record of each transaction to prove how much of your materials cost is recouped.
Each of our clients for scrap metal skip hire in Hindley have different needs. We go the distance to make sure you are satisfied with our service, our prices and our payment schedule. Contact us and tell us about your scrap metal collection needs. We will work out a solution to your satisfaction. If you manufacture goods from metals then it may be that your material costs are lower when you use recycled metals. There is less impact on our natural resources and the environment when recycled materials are used for the manufacture of new products. Metal recycling is a win for everybody so make it easy on yourself and choose our award winning service at Wigan Metal Recycling.